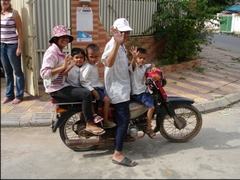 The health care system and the social services structure in Cambodia remain to be insufficient to respond to the need of Cambodian people in a foreseeable future. People living with HIV/Aids cannot rely on institutional care alone. Family and community will need to care for people with HIV/Aids, as institutional care may not be an affordable choice. All segments of a community should be made aware of the impact of HIV/Aids at community level and be mobilised to respond by accepting people who already are infected, support families who lose their relatives and help care for those being sick and care for orphans and elderly left behind. In order to help the community cope with these challenges, JBCF foresees opportunities.
JBCF's projects try to mobilise untapped community resources in order to provide adequate services at the community level; de-stigmatise HIV/Aids, facilitate integration of persons with HIV/Aids into the community and thus increase the participation of persons with HIV/Aids in the day-to-day activities of the community as productive members. Persons with HIV/Aids do not need to be institutionalised or abandoned.
To support families or care takers of vulnerable children, JBCF tries to create a working environment which provides them with a proper income. JBCF also stimulate integration of persons with HIV/Aids into the community, by providing work and training. A recently opened Sewing Centre offers both the opportunity to generate income and share the profits with JBCF, thereby supporting others in the community. More information about the sewing studio can be found here.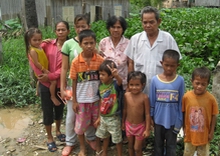 JBCF started with 14 children under their care in 2007 and at this moment (May, 2009) the number of children has increased to 34 children and their care takers. Currently there are many requests of vulnerable children and their families for financial support.

The financial support will mainly be used to continue education and hopefully preventing child trafficking, drugs abuse and child sexual abuse. Besides that funds will be used to improve the family situation. A broader description of this project can be found here.
To be able to fulfill these requests and continue long term support to the children and their community, additional funds are necessary. At this moment, JBCF has not yet sufficient funds to increase the number of supported children. In order to meet these requirements JBCF wishes to establish long term relationships with prospective and current donors.
If you wish to contribute to the future of these children and their community, please contact Mr. Billy Barnaart.