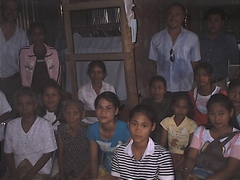 On March 14, 2007 an urgent meeting was called by orphans, children and their care takers affected by HIV/Aids and organised by Mr. Billy Barnaart. The reason for this urgent meeting was insistent need for financial assistance to provide proper care, food, education and health services for these children and their care takers. On the request of these children and care takers a new organisation has been established with the name 'Jeannine and Billy's Children's Foundation', JBCF.
The Jeannine and Billy's Children's Foundation has been officially registered and recognised by the Ministry of Interior on June 14, 2007 confirm the NGO law in Cambodia. Jeannine and Billy's Children's Foundation is in the process to sign a Memorandum of Understanding with the Ministry of Social Affairs, Labour, Vocational training and Youth Rehabilitation.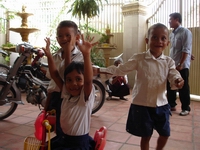 JBCF is there to promote the integration of children, whose parents died of AIDS and, AIDS affected children and families into Cambodian society by providing them appropriate care and education through financial support and in a participatory way to try to improve the quality of life of these children and families. Thereby, creating a loving and caring environment for these children. To in the end contribute to the prevention of child trafficking, drugs abuse and sexual child abuse.
The main objectives of the project are as follows;
Help orphans whose parents died of Aids to have foster parents and obtain scholarship and provide a loving and caring environment for them;
If no other option is possible and available, to provide orphans a home located in the community wherein they can grow up to valuable and productive members of the community;
Increase the opportunity of children affected by HIV/Aids to follow appropriate education adjusted to their level;
Transfer knowledge to families and community about HIV/Aids to prevent infection and increase understanding about caring for infected persons within the family.


Top