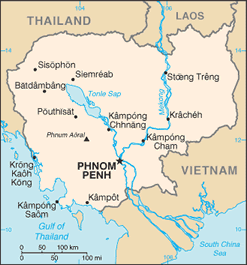 The Kingdom of Cambodia, formerly known as Kampuchea, is a country in South East Asia with an estimated population of over 14 million people. The kingdom's capital and largest city is Phnom Penh.
A citizen of Cambodia is known as "Cambodian" or "Khmer," though the latter only refers to ethnic Khmers. The official language in Cambodia is Khmer (95%); other spoken languages are French and English.
Agriculture has long been the most important sector of the Cambodian economy, with around 59% of the population relying on agriculture for their livelihood (with rice as the main production). Now, garments, tourism, and construction are also important.
Cambodia has a tropical climate, which means the month May to November are rainy or monsoon season, in December till April it is dry season. There is little seasonal temperature variation.
Top